Day of Surgery – What to expect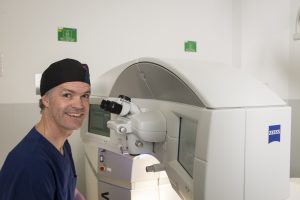 All the information that you require about your surgery day will have been provided at your consultation.  Laser eye surgery is performed with Dr Furness at Perth Eye Hospital on a Friday or Tuesday.  Perth Eye Hospital is a private hospital based in West Perth.  The hospital is fully accredited, complying with the National Safety and Quality Health Standards and is a Member of Day Hospitals Australia.  Perth Eye Hospital's exemplary quality-consistency has been confirmed by its prestigious ISO9001 Certification from International Standards Certifications.
You will be at the hospital for approximately 3 hours on the day of your procedure.  The laser operating suite is precisely controlled for both temperature and humidity so light comfortable clothes are all that will be needed.  It is better to have only a light snack and drink well prior to the operation as anxiety and a full stomach can make you uncomfortable when lying flat.  We ask that you do not wear any perfume / aftershave or alcohol based deodorants and women are asked to not wear any make-up ensuring the eye area is thoroughly cleansed.
You will be greeted by by the staff at Perth Eye Hospital upon arrival and begin the admission process prior to being taken to the laser suite for your procedure.  The admission process consists of confirming information and going through your post-operative eye drop regime.  This is very important as the eye drops fend off the risk of infection, combat dry eye and settle any inflammation caused which is to be expected following F-LASIK.
Once your F-LASIK procedure is complete, you will be brought to the comfortable recovery area to rest for a brief period.  You will be given some light refreshments and an opportunity to relax.  Before you are given the all clear to head home, Dr Furness will see you once more to have a final look at your eye(s) and an opportunity to ask any questions that may have arisen.  This is rare as we ensure our patients are fully equipped with knowledge about their procedure, aftercare, do's and don'ts and general expectations prior to the day of surgery.
Once you are discharged, you should travel straight home.  We recommend a friend or family member be available for the first night following surgery for extra assistance with eye drops and support.  Although you have likely reached driving standards within a  a few hours, it is not advisable to drive until Dr Furness has cleared you at your day 1 post-operative appointment.  To put your mind at ease, you are given Dr Furness' mobile number for out of office hours for any queries or concerns you may have.
---
F-LASIK Aftercare
View Video
You will be provided with an eye drop medication chart at Perth Eye Hospital and your post-operative eye drops.  It is important these are taken as recommended as they will minimise healing time and improve comfort in your eyes.  We recommend that you wear non-prescription sunglasses when outdoors for the first couple of weeks following surgery as a temporary side effect of your procedure may be light sensitivity.  Sunglasses will also help to keep any dust that may be present in the air from getting into your eyes and causing further dryness and / or irritation.
You should avoid rubbing your eyes following your procedure.  So that you can avoid rubbing your eyes in your sleep, the hospital will provide you with clear plastic eye shields to wear for the first 5 nights after your procedure whilst the flap heals and secures itself back in place.  Avoid getting any water in the eyes for the first couple of weeks after your laser eye treatment.  It is common for people to squeeze their eyes closed after surgery when eyes are itchy or when bathing.  Please avoid squeezing the eyes closed.  Itchy eyes are caused by dryness which is the most common side effect following laser eye surgery and a lubricating eye drop can be used to improve comfort.
We ask that women do not wear any eye make-up for the first 7 days following F-LASIK.  Contact sports should be avoided for up to 4 weeks following your procedure and it is a good idea to disclose to Dr Furness at your consultation what sort of sports and hobbies you take part in so that we can advise you accordingly about your aftercare.  It is also recommended you do not swim for 2 weeks.